January 2018

Download this article as a PDF
In the business world, the rear-view mirror is always clearer than the windshield.

Warren Buffett
Business magnate, investor, and philanthropist
Abstract
Are the features and processes of entrepreneurship – such as wealth creation, risk taking, vision, identification of a niche market, launching new products, and so on – common across the world? Many would assume they would be. However, firms that are entrepreneurial in nature and belong to emerging markets may or may not follow the established models of developed economies. In this study, we sought to explore various types of entrepreneurial models that are prevalent in an emerging market. For this purpose, we collected primary and secondary data to identify characteristics of technology-based entrepreneurial firms in India. Based on the two dimensions of degree of demand/supply and expected loss/risk, we identify four models of entrepreneurship – incremental, proactive, radical, and reactive – and illustrate each model with examples from Indian companies.
Introduction
In this article, we revisit theories of entrepreneurship to explore some of the unique features of technology entrepreneurship and how they may interact with the distinctive features of emerging markets. With the help of inputs from practicing business models and 20 personal interviews with technology entrepreneurs, we propose a framework that describes how the various technology entrepreneurship models in emerging countries are derived.  
A successful venture creates wealth for its entrepreneurial team and it creates value in the marketplace (Sarasvathy, 2001). However, technology has changed both the perspectives on uncertainty in new ventures, as well as the estimates of outcomes. Crowdfunding and digital marketplaces have created a platform where available resources, capabilities, constraints, and risks are redefined. Technology has simultaneously changed the rigid boundaries between phases of a new product or service. The outcome is dynamic, non-linear, continuously tested in the marketplace, and evolving (Nambisan, 2017).
Emerging markets have greater uncertainty in their political and business environments. They have greater constraints by way of economic and government policies, and in infrastructure. However, given an opportunity, the constraints can at times be surmounted by a leapfrogging technology or the use of technology to develop a new business model. Emerging markets present highly skilled and low-cost labour; unmet needs of the consumer; and differing buyer behaviour in diverse segments. They present challenges of finding early adopters, marketing and distribution issues, and low-price points. The firms that succeed do not follow the established business models of the developing economies. They succeed by finding innovative methods of aggregating the demand or supply, or of making access or usage easier for the customer, by using innovative business models (Thukral et al., 2008).
Following the opening up of the economy, and the subsequent rapid expansion of the mobile and Internet sector in India, there has been a surge in the number of startups being established in the country. Most of these startups use technology as an enabler. Therefore, in this study, our approach was to look out for patterns in the entrepreneurial models of some of these firms using technology at the core of their business model. We collected primary and secondary data to identify the characteristics of entrepreneurial firms in the technology domain only. We compared and contrasted the business models of these firms with models of developed markets, and we developed a framework to position these models. Overall, this framework is intended to represent the types of entrepreneurial models of emerging market firms whose core enabler of business model is technology as compared to any other resource.
Entrepreneurial Models and Technology Entrepreneurship
Most entrepreneurial research in developed nations has focused on new venture creation. The dimensions explored are the environment in which the venture gets created, the individual(s) creating the venture, the process of its creation, and the type of venture itself. Research has focused on the process of identification and exploitation of opportunities as being at the heart of the entrepreneurial process. Researchers have explored how, why, and when opportunities come into existence. Why, when, and how some people discover these opportunities and not others. And, out of these, why, when and how, some entrepreneurs (and not others) exploit the opportunities. The venture-creation process that followed opportunity identification and the performance of the business venture were in a sense, consequences of the opportunity-discovery activity (Shane & Venkataraman, 2000).
Factors such as prior knowledge – of markets, of technologies, of customers and of business processes – have been explored as factors contributing to the opportunity-recognition process (Shane, 2000). These explorations reiterated the position of individual entrepreneurs and entrepreneurial teams as being pivotal to the opportunity identification process. The processes following opportunity recognition and identification are usually to do with planning and designing, gathering resources, identifying customers and markets, producing and selling the product, while building the organization and managing regulatory processes (Gartner, 1985). The effectuation process, however, starts on a different note, with the process of identifying the available means of evaluating constraints and of exploring alternatives, while keeping risks and losses at an affordable level. This process works more often in dynamic and non-linear environments. The entrepreneurs look for alliances as a method to manage uncertainties in the future, to create markets, and to build cooperative allies for contingencies (Sarasvathy, 2001).
As a specific type of entrepreneurship, technology entrepreneurship is defined as "an investment in a project that assembles and deploys specialized individuals and heterogeneous assets that are intricately related to advances in scientific and technological knowledge for the purpose of creating and capturing value for a firm" (Bailetti, 2012), and at its heart is the establishment of new technology ventures. Individual technology entrepreneurs have been categorized as researchers, producers, users and opportunists as per their technical orientation and background. However, technology entrepreneurs are often a mix of these attributes. Also, entrepreneurial teams have a combination of these attributes (Jones-Evans, 1995).  Technology entrepreneurs differ in the ways in which they draw on resources and structures to exploit technology opportunities. They may focus on self-dependency or on the right network and alliances (Tzu-Hsin et al., 2005).
The process of technology entrepreneurship is about recognizing, creating, and exploiting opportunities, and assembling resources around a technological solution, irrespective of the organizational context (Bailetti, 2012; Ratinho et al., 2015; Spiegel & Marxt, 2011). The technological solution opens up new possibilities, it allows the reduction of transactional costs (Williamson, 2005), and it has the ability to use new a technology product paradigm to provide a solution to a market gap (Ratinho et al., 2015). Technology entrepreneurship differs from general entrepreneurship in that it focuses on technological opportunities that require deep technological as well as managerial capabilities (Prahalad & Hamel, 1990; Walsh & Linton, 2011). In other words, it requires a higher level of technical capabilities and management of a risky environment (Harms & Walsh, 2015). Alternatively, it involves the same opportunity identification, organization, and execution found in any other form of entrepreneurship but around a focused technology and a business model that makes it unique.
Entrepreneurship in Emerging Markets
Entrepreneurship is found to contribute to wealth creation and poverty alleviation in nations. By creating disruptive influences, it contributes to a better wealth distribution in the country. It creates jobs and improves the standards of living. It addresses gender inequality in the process. It also builds a better balance for regional economic development indices (Noel & Banerjee, 2014). However, in an analysis of R&D spend as a percentage of GDP, India ranked far behind China, Brazil, and Singapore (UNESCO, 2018). Thus, the science, technology, and innovation policy of India has identified measures to improve a national knowledge network, infrastructure, and investments. It includes measures such as enrichment of the knowledge base; incentivizing R&D in the public and private sectors; improving governance in science and technology institutions; fostering collaboration between academia, industry, and scientific establishments; promoting collaboration through clusters; supporting the financial system; providing a platform for best practices and innovations; improving the flow of technology; developing and protecting intellectual property rights; and implementing geographic information systems (Planning Commission of India, 2018).   
In terms of entrepreneurship, less than 16% of the Indian population within the 18–64 age group were found to be engaged in entrepreneurial activity, as compared to 41% percent in China, and 48% percent in Brazil (Chaurasia & Bhikajee, 2016). In India, some of the factors that inhibit entrepreneurship are: its caste system, its cultural values that affect the acceptability and utility of entrepreneurship, and governmental regulations that have a monitoring and control perspective (Dana, 2000). On the other hand, the Indian entrepreneur is known for "jugaad", or frugal innovation. Consumers, governments, and organizations benefit from the practice of such flexible and inclusive forms of innovation to be able to find sustainable solutions (Prabhu & Jain, 2015), especially in an emergent market such as India.
Emerging markets present a significant growth potential, with a positive and significant growth rate of gross domestic product, and growing aspirations of their people. However, they present unique challenges as well. To build sustainable solutions in keeping with the varying needs of different socio-economic segments, products and services have to build on greater knowledge from the customer. As per Goyal and colleagues (2017), some of the approaches companies in emerging markets have taken are:
Leverage volume-based cost efficiencies because they increase market share. This approach involves sufficient value creation for the given market segment.
 
Bundle offerings in various innovative ways to suit different pockets, and thus to capture different tiers of the market.
 
Separate and unbundle various business processes into separate units. This allows organizations to focus on processes relating to their core competencies, and thus drives efficiency.
 
Follow open innovation of both types: "outside in" by using external ideas and research and "inside out" by licensing or sharing internal innovation ideas and products.
 
Follow a "hub and spoke" arrangement of infrastructure and business services, with the smaller spokes in the less accessible and less developed areas.
 
Use crowdsourcing and grow a network of multiple suppliers. This builds safeguards for contingencies and also reduces dependence on key resources.
 
Offer "price-minus" or "challenge-cost" pricing. This involves working out a suite of features for a product to match the paying capacity of the buyer while at the same time creating a value proposition.
Furthermore, research by Majumdar and co-authors (2010) on 876 firms in the Indian software industry found that, on one hand, the more dominant firms undertake higher-margin activities. The less powerful firms, on the other hand, follow a more uncertain path, with lower revenues per employee.
Method
We contacted 20 technology entrepreneurs in India and asked about their current business, how they had identified opportunities, what motivated them to pursue these opportunities, and how they continuously adapted their business with feedback from associates, as suggested by Karlesky (2015). A discussion guide was used for this purpose, and we found that we reached theoretical saturation with 20 respondents.
Technology entrepreneurship firms have been broadly explored in the literature as per the themes of the environmental factors influencing them, the strategies deployed, and processes of organizing their resources and technologies (Shane & Venkataraman, 2003). The four control variables to select the firms in this research were: i) they were using technology as the core of their business model; ii) they had a presence throughout India; iii) they were successful; and iv) they must have been in operation for at least the past 3 years. The firms explored in this research belonged to the following domains: information technology; travel and entertainment; embedded systems; cloud computing; and the banking, financial services, and insurance sectors. All were technology-based entrepreneurial firms that operated in urban and semi-urban India. Here, technology-based entrepreneurial firms means those companies that use technology (i.e., proprietary technology, including single-sided or multi-sided platforms) at the core of their business model. It means that, if one removes the technology part from the business model of these firms, they will cease to exist. Therefore, these firms used technology as their core competency and were either selling products or services themselves or provided a platform for clients and servers. 
We used the theories of two classical economists towards entrepreneurship given by Joseph Schumpeter (1974), who focussed on the demand-side innovator, and the other used by Frank Knight (1964), who based his analysis predominantly on the type of risk an entrepreneur was taking to arrive at the synthesized (Leyden & Link, 2015) model to analyze the approaches of the companies. We adopted a framework of comparing the entrepreneurship firms based on a dual approach. First, we examined the entrepreneurial firm's approach to providing technology solutions to the customer; second, we examined the entrepreneurial firm's approach to risk management in an effectuation mode. Based on their inputs followed by a content analysis of the interviews from 20 respondents using the discussion guide, the results were grouped into four approaches as described below. The responses were categorized based on the approach followed by these technology entrepreneurs to launch a new venture. In total, four themes (approaches) emerged out of the content analysis. The first approach comprised firms developing a minor yet unique value proposition using technology as the differentiator, in a market where already a number of players existed. The second approach comprised those companies who tried to capture the need of the market before anybody else could do so, distinctively keeping the entire country's market in mind. The third approach was followed by companies who disrupted the market by offering a technology solution that never existed before. A fourth approach was followed by some companies who seconded an earlier player and typically followed a "me too" strategy.   
Results
For each technology firm we surveyed, we classified their use technology to create value propositions for their customers. We then classified this use along two dimensions – the degree of change brought about and the degree of risk taken – which yielded four approaches to technology entrepreneurship (Figure 1):
Incremental
Proactive
Radical
Reactive
As listed in Figure 1 and described in the subsections that follow, our exploratory research found examples of all four models in the firms surveyed. As entrepreneurs decide on methods of opportunity exploitation, they are guided by considerations of containing losses and covering for contingencies (Sarasvathy, 2001), and by the economic factors of demand and supply (Dawson et al., 2016). Rather than making grand plans, they make incremental plans based on their means and constraints. However, the ready availability of capital, social, and relational capital may change their risk perceptions.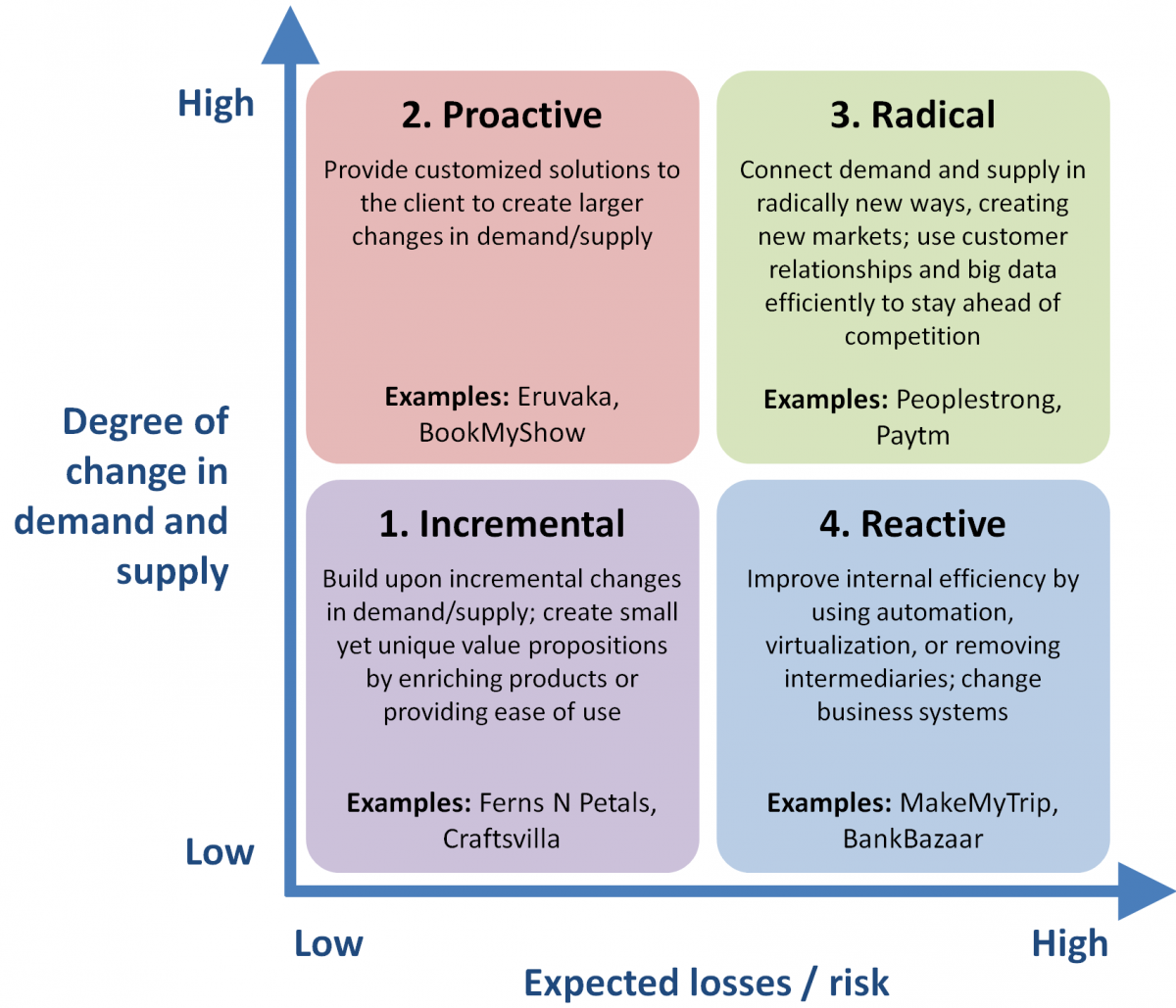 Figure 1. Models of technology entrepreneurship and examples of Indian firms for each type
1. Incremental
Companies in this category are based in a quadrant where the expected risk is low and the firms aim to make a small change in demand and supply. Such firms identify an existing need and develop a technology solution around it to fulfil the need in a much better way or provide for ease of use through their technology solution, all by keeping the risk levels low. The technology solution is unique, scalable, and fulfils a major existing need of the consumers. Some examples of companies belonging to this quadrant are:
2. Proactive
Companies in this quadrant try to provide a customized solution to the client and aim at making huge strides in terms of demand and supply. In other words, they propose massive shifts in demand and supply in a low-risk sector by focusing on an identified or hidden need based on customer problems. In the proactive model, the customer is not able to demand a solution because they are not aware that there can be a technological solution to their current problem. Some examples of proactive orientation are given below. 
3. Radical
These are the companies falling under the quadrant where they connect demand and supply in radically new ways, create new markets, and use existing customer relationships and big data efficiently to stay ahead of the competition. This is also a high-risk proposition, as at this stage, the client and server both are large. Suppose, for example, that the technology solution does not work or encounters issues, such as with government regulations. At the same time, another risk is creating parallel competition if the technology solution provided by them has huge potential throughout the industry and other players would like to copy it. Some examples include the following:
4. Reactive
Technology entrepreneurs in this quadrant typically follow the aggregator model, where they try to provide a one-stop shop to meet needs related to one particular area. For example, they may develop technology solutions that allows users to compare various insurance policies and an option to buy them, book everything related with travel, or compare the features of automobiles. Or, they may provide a logical extension of a discussion or rating forum to become an integrated solution provider in a particular domain. They are reactive in the sense that these solutions typically do not aim to provide any shift in demand and supply a "me too" solution through aggregation. The risks are higher in this case as there is typically no unique selling proposition or strategy of these players, and they act like aggregators. Some examples are given below:
Conclusion
The matrix given in Figure 1 suggests a way to classify technology firms into four quadrants on the basis of the anticipated changes in demand and supply of that product or service and the amount of risk involved for the technology entrepreneur at the organizational level. It represents the organizational strategy and the type of business objective a technology entrepreneur is intending to focus on, assuming that the required technological capabilities pre-exist within the technology entrepreneurship firm. The model suggests a method to compare and contrast different technology ventures in India and in other emerging countries. Individual attributes that contribute to a lower or higher level of risk tolerance among entrepreneurial individuals and teams can be explored in future research. The availability of technology expertise in the founding team, human capital, knowledge of markets, and knowledge of the customer can be explored as determinants for selecting a business model to change the sources of supply, of demand, or both. The scope of this article was limited to India, but could be expanded to consider firms from other emerging markets.
---
References
Arakali, H. 2017. BookMyshow's Experiment with WhatsApp Could Help its AI Efforts. Forbes India, September 15, 2017. Accessed December 1, 2017:
http://www.forbesindia.com/article/special/bookmyshows-experiment-with-w...
Bailetti, T. 2012. Technology Entrepreneurship: Overview, Definition, and Distinctive Aspects. Technology Innovation Management Review, 2(2): 5–12.
http://timreview.ca/article/520
Bhalla, T. 2017. Paytm Confirms Messaging Platform, Launches Chat Payments Feature 'Inbox'. Your Story, November 3, 2017. Accessed December 1, 2017:
https://yourstory.com/2017/11/paytm-messaging-platform-launches-chat-pay...
BT Online. 2017. Paytm Sees Gold Transactions Worth Rs. 120 Crores in 6 Months, Over 1 Million Buyers till Dhanteras. Business Today, October 18, 2017. Accessed December 1, 2017:
http://www.businesstoday.in/current/corporate/buying-gold-on-paytm-coins...
Chamikutty, P. 2014. Fishing in the Right Waters, Eruvaka Technologies. Your Story, January 5, 2014. Accessed December 1, 2017:
https://yourstory.com/2014/01/fishing-right-waters-eruvaka-technologies/
Chaurasia, R., & Bhikajee, M. 2016. Adding Entrepreneurship to India's Science, Technology & Innovation Policy. Journal of Technology Management & Innovation, 11(2): 86–103.
http://dx.doi.org/10.4067/S0718-27242016000200009
Dana, L. P. 2000. Creating Entrepreneurs in India. Journal of Small Business Management, 38(1): 86–91.
Dawson, A., Hirt, M., & Scanlan, J. 2016. The Economic Essentials of Digital Strategy. McKinsey Quarterly, March 2016. Accessed December 1, 2017:
https://www.mckinsey.com/business-functions/strategy-and-corporate-finan...
FE Online. 2017. WhatsApp Business App Goes Live: How to Get BookMyShow Movie Tickets Confirmation on Mobile. Financial Express, September 15, 2017. Accessed December 1, 2017:
http://www.financialexpress.com/industry/technology/whatsapp-business-ap...
Gartner, W. B. 1985. A Conceptual Framework for Describing the Phenomenon of New Venture Creation. Academy of Management Review, 10(4): 696–706.
http://www.jstor.org/stable/258039
Goyal, S., McCord, M., & Kapoor, A. 2017. Transforming Business Models in Fast‐Emerging Markets–Lessons from India. Thunderbird International Business Review, 59(1): 23–32.
http://doi.org/10.1002/tie.21750
Jones-Evans, D. 1995. A Typology of Technology-Based Entrepreneurs: A Model Based on Previous Occupational Background. International Journal of Entrepreneurial Behaviour & Research, 1(1): 26–47.
https://doi.org/10.1108/13552559510079751
Karlesky, M. J. 2015. Identifying Entrepreneurial Opportunities: Cognition and Categorization in Nascent Entrepreneurs. Doctoral Dissertation. Ann Arbor, MI: University of Michigan.
https://deepblue.lib.umich.edu/handle/2027.42/116674
Knight, F. H. 1964. Risk, Uncertainty and Profit. New York: Courier Dover Publications.
Leyden, D. P., & Link, A. N. 2015. Public Sector Entrepreneurship: US Technology & Innovation Policy. New York: Oxford University Press.
Majumdar, S. K., Vora, D., & Nag, A. K. 2010. Industry Structure Characteristics and International Entrepreneurship in India's Software Industry. The Journal of Entrepreneurship, 19(2): 109–136.
https://doi.org/10.1177/097135571001900202
Nambisan, S. 2017. Digital Entrepreneurship: Toward a Digital Technology Perspective of Entrepreneurship. Entrepreneurship Theory and Practice, 41(6): 1029–1055.
http://doi.org/10.1111/etap.12254
Nexus. 2015. Craftsvilla.com Raises 100Cr to Become the Ethnic Destination for India. Nexus Venture Partners, April 23, 2015. Accessed December 1, 2017:
https://nexusvp.com/press-releases/craftsvilla-com-raises-100cr-to-becom...
Noel, S., & Banerjee, B. 2014. Global Entrepreneurship Monitor 2013: India Report. London: Global Entrepreneurship Research Association.
Prabhu, J., & Jain, S. 2015. Innovation and Entrepreneurship in India: Understanding Jugaad. Asia Pacific Journal of Management, 32(4): 843–868.
https://doi.org/10.1007/s10490-015-9445-9
Prahalad, C. K., & Hamel, G. 1990. The Core Competence of the Corporation. Harvard Business Review, 68: 79–91.
Rainer, H., & Walsh, S. T. 2015. An Introduction to the Field of Technology Entrepreneurship: Editorial to the Special Issue. Creativity & Innovation Management, 24(4): 552–557.
http://doi.org/10.1111/caim.12159
Ratinho, T., Harms, R., & Walsh, S. T. 2015. Structuring the Technology Entrepreneurship Publication Landscape: Making Sense out of Chaos. Technological Forecasting & Social Change, 100: 168–175.
https://doi.org/10.1016/j.techfore.2015.05.004
Sarasvathy, S. D. 2001. Causation and Effectuation: Toward a Theoretical Shift from Economic Inevitability to Entrepreneurial Contingency. Academy of Management Review, 26(2): 243–263.
Schumpeter, J. A. 1974. Capitalism, Socialism and Democracy. London: Unwin University Books.
Shane, S. 2000. Prior Knowledge and the Discovery of Entrepreneurial Opportunities. Organization Science, 11(4): 448–469.
https://doi.org/10.1287/orsc.11.4.448.14602
Shane, S., & Venkataraman, S. 2000. The Promise of Entrepreneurship as a Field of Research. Academy of Management Review, 25(1): 217–226.
http://doi.org/10.5465/AMR.2000.2791611
Shane, S., & Venkataraman, S. 2003. Guest Editors' Introduction to the Special Issue on Technology Entrepreneurship. Research Policy, 32(2): 181–184.
https://doi.org/10.1016/S0048-7333(02)00104-X
Singh, D. 2017. Key Innovations to Increase Adaptability of AI in Workplaces. People Strong, November 14, 2017. Accessed December 1, 2017:
https://www.peoplestrong.com/key-innovations-to-increase-adaptability-of...
Spiegel, M., & Marxt, C. 2011. Defining Technology Entrepreneurship. Paper presented at the 2001 Industrial Engineering and Engineering Management Conference (IEEM), Singapore.
The Hindu Business Line. 2017. To Scale Up On-demand Movie Platform Vkaao, PVR Partners BookMyShow. The Hindu Business Line, November 15, 2017. Accessed December 1, 2017:
http://www.thehindubusinessline.com/info-tech/to-scale-up-ondemand-movie...
Tzu-Hsin, L., Chu, Y.-Y., Hung, S.-C., & Wu, S.-Y. 2005. Technology Entrepreneurial Styles: A Comparison of UMC and TSMC. International Journal of Technology Management, 29(1/2): 92–115.
https://doi.org/10.1504/IJTM.2005.006006
Planning Commission of India. 2018. Approach Paper to the 12th Five Year Plan: Technology and Innovation. Government of India Planning Commission. Accessed December 1, 2017:
http://12thplan.gov.in/forum_description.php?f=13.
Thomas, A., & Bhattacharya, A. 2017. BankBazaar Co-founder Adhil Shetty's Paperless Future May Be Here. Economic Times, April 6, 2017. Accessed December 1, 2017:
https://economictimes.indiatimes.com/small-biz/entrepreneurship/bankbaza...
Thomas, P. M. 2013. Ferns N Petals Aims to Go Global. Forbes India, September 19, 2013. Accessed December 1, 2017:
http://www.forbesindia.com/article/work-in-progress/ferns-n-petals-aims-...
Thukral, I. S., Von Ehr, J., Walsh, S., Groen, A. J., Van Der Sijde, P., & Akmaliah Adham, K. 2008. Entrepreneurship, Emerging Technologies, Emerging Markets. International Small Business Journal, 26(1): 101–116.
https://doi.org/10.1177/0266242607084656
UNESCO. 2018. Research and Development Expenditure (% of GDP). United Nations Educational, Scientific, and Cultural Organization (UNESCO) Institute of Statistics. Accessed January 22, 2018:
https://data.worldbank.org/indicator/GB.XPD.RSDV.GD.ZS.
Walsh, S. T., & Linton, J. D. 2011. The Strategy-Technology Firm Fit Audit: A Guide to Opportunity Assessment and Selection. Technological Forecasting and Social Change, 78(2): 199–216.
https://doi.org/10.1016/j.techfore.2010.06.023
Williamson, O. E. 2005. Transaction Cost Economics and Business Administration. Scandinavian Journal of Management, 22(1): 19–40.
https://doi.org/10.1016/j.scaman.2005.02.002
Your Story. 2017. BookMyShow Acquires Burrp in All-Cash Deal. Your Story, July 3, 2017. Accessed December 1, 2017:
https://yourstory.com/2017/07/bookmyshow-burrp-network18-foodfesta-wellc...